Some ideas reappear over and over again in exhibition design. One recurring theme is the idea of displaying information or events in real time. Instances we've discussed in the past include aircraft in the sky, internet traffic, cars on the NJ turnpike, and many other element of modern life. Now, it's even possible to track some of these on your cell phone.
This week we wanted to point out a couple of examples we've recently run across that might interest anyone trying to provide visitors an understanding of how we are using communication technology today.
The first is a piece call Pirate Cinema, produced by Nicolas Maigret and Brendan Howell.
In this piece, viewers are treated to a cinematic montage of media segments being shared in peer-to-peer networks through BitTorrent. It provides a real-time sneak peek at an activity taking place throughout and across the world that is fundamentally changing many industries and even changing societies as a whole.
The second examples is the website Tweetping by Franck Ernewein.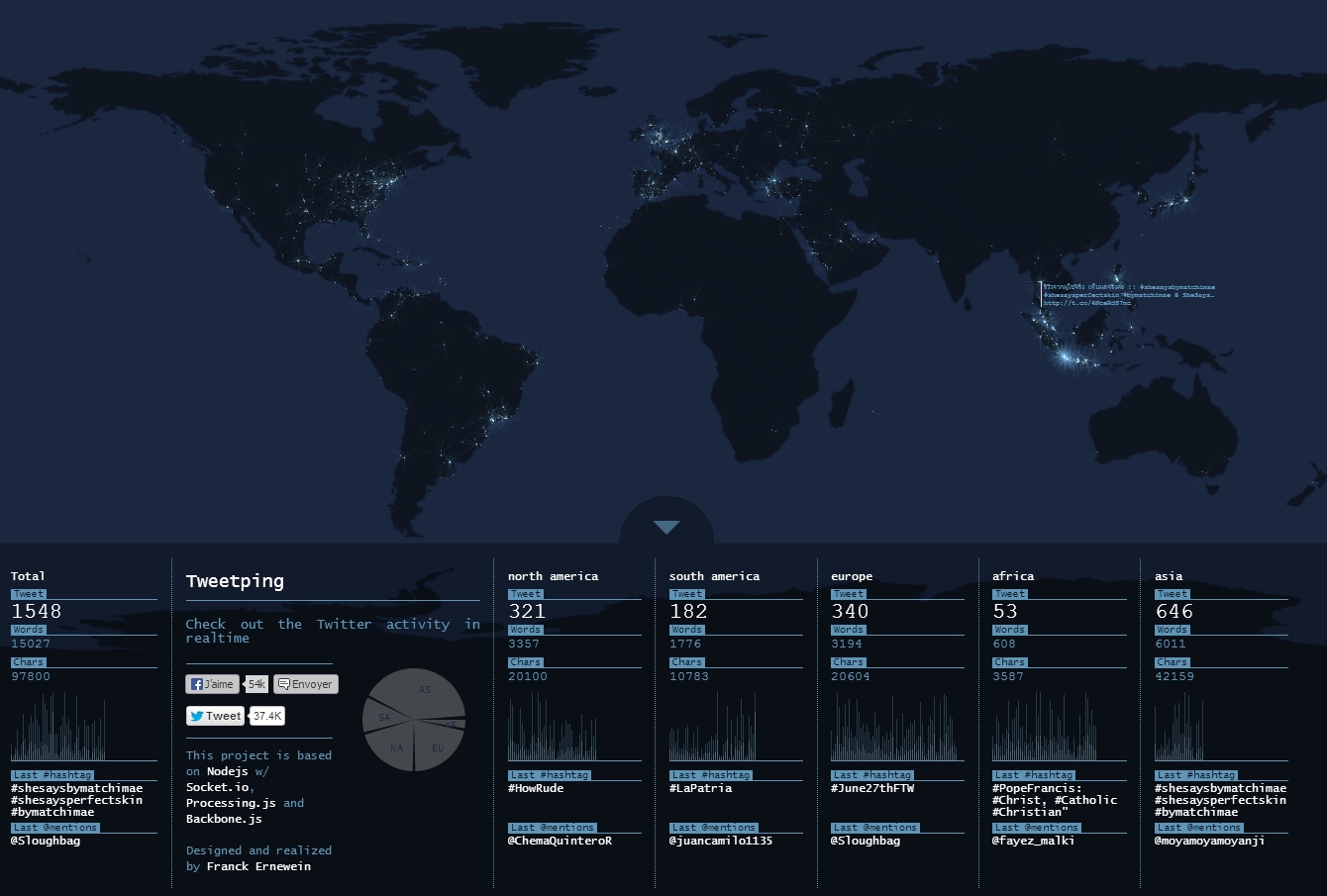 Check it out!
Here, one can watch the world of Twitter just wash by across the planet. It can be mesmerizing to see subjects and topics sweep across the globe. These experiences seem to capture a live display of the state of the planet, and they share some important points that might be relevant to exhibition planning and design:
First, they are real. Here are digital media experiences showing real phenomena or technology. They are about real data.
One could argue, too, that these show real phenomena in the same way that, say, a pendulum exhibit demonstrates an actual physics phenomenon.
The second important point is that these experiences makes the hidden, the unseen visible in a dynamic way – and, in these cases, in ways that allow us to look back at ourselves.
Exhibits that explore the hidden parts of being human are always fascinating.
What new ideas do these examples spark for you?
One interesting idea might be to have an exhibition where all of the experiences provide a similar kind of living pulse of our planet.
What would you want to see in such an exhibition?