ALCHEMY studio brings an approach to museum, experience and media projects that is shaped by work that's taken us from Istanbul to Winnipeg and experiences that range from one-room to multi-building institutions.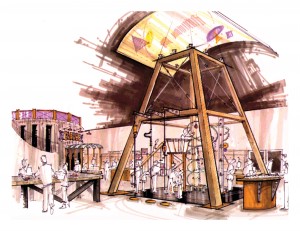 The foundation of our approach includes several components that are part of every project we undertake. While we create a unique process to fit each client, these elements always shape our approach:
GREAT PEOPLE
ALCHEMY studio brings together team members who provide not only new, innovative and experienced thinking but are also some of the very best in the business. We are a flexible studio, and we bring in the right people for each project.
TEAM-BASED
We believe that the experience development process is best served by a team-based, highly collaborative approach. ALCHEMY studio works to create and participate in teams that freely share ideas, support each other, are committed to outstanding work, and are always thinking about our clients' fiscal and operational sustainability.
EXPERIENCE INNOVATION
Whether through leveraging new networking and community-created software trends or "twisting" an amusement park ride into an exhibit, ALCHEMY studio team members have made their mark by developing and implementing new and unique visitor experiences.
FLEXIBILITY and UPDATABILITY
ALCHEMY studio team members have employed their unique talents to innovate and create tactics and embed design considerations for experiences to resolve a constant struggle all exhibitions face: keeping them up-to-date and reflective of current understandings in content and technology.
BUDGET MANAGEMENT
One of the strengths ALCHEMY studio is proud to point out is our ability to make a project's dollar stretch farther than one might think possible. We find ways to embed as many impactful and engaging experiences as possible into an exhibition and to offer clients creative efficiencies that enhance overall visitor experience.