So, a few days ago, we posted the new interface/augmented reality project by Fujitsu Laboratories. This offers some interesting ideas for integrating augmented reality into museum exhibition environments. Now we have a new one to take a look at.
Here is another new digital interface that offers more fascinating ways to interact with digital information. AquaTop turns a pool of water into an interactive, three-dimensional digital interface surface.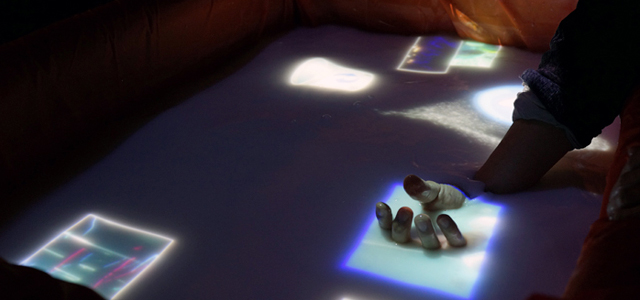 AquaTop is a projection system that uses something like bath salts to create a white water screen surface. (Most likely, other substances could work as well.) The other components include a sensor system (in this case, Kinect), a projector, lighting control, and interactive programming. The system won the Grand Prize at Laval Virtual this year.
There is something intuitive and pleasing about the physicality of water and the common digital "touch" interface. Makes one wonder what other actions we might develop if we projected on water more often.
One particularly fascinating thing about AquaTop is that it directly and visually demonstrates multiple points of interface – for example, by showing visible markers when someone touches the surface with multiple fingers – from under the surface! We're also intrigued about using other sensor systems and how we might manipulate things like waves or other physical water phenomena. We can also imagine some truly creative and fun ways to incorporate this technology into a water play area or other water related exhibit.
AquaTop has some similar attirbutes to the posting we had about 3d projections. You can check out that earlier post here. 
What ideas do you have? We'd love to hear what you're imagining.
A shout-out to Louise Julie Bertrand who pointed us to this project – thank you.