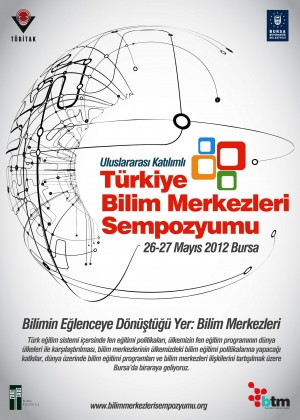 Over the past weekend, ALCHEMY studio had the honor and pleasure to deliver the keynote address for the first international Turkish Science Centre Symposium in Bursa Turkey.
While late to the science center movement the people, communities and government of Turkey are enthusiastic and ardent about improving scientific and technological literacy – life long – as their more experienced and long er established brethren in the Americas, Europe and Pacific. Representatives of various municipalities throughout Turkey, as well as educators and university students, discussed implementation, development and operational  issues that they are all experiencing.
An interesting observation from this conference was that these emerging and established science center colleagues are researching, studying and examining what the rest of the world is doing – creating , presenting and publishing papers in a scholarly way.
The references cited in these appers have some very famialiar friends' names that we all know.
Already our fellow Turkish science center professionals are creating  experiences beyond science centers including science festivals, outreach and science and technological competitions. They have already learned the value of mutiple platforms and mediums in delivering the message and engaging the community.
Meanwhile their future is still filled with challenges. The current spurt of activity is being fueled by a forward thinking initiative by the national government - directed through TUBITAK the national science organization.  From the symposium two of the major challenges that is being grappled with are the follwoing
1. How to set aside the time and process to actually think through in a thoughtful way how to meet the needs of the community. A community that can have widely diverse backgrounds, ages and interests. There is an eagerness to get this done, but this doestake time to be done correctly.
2. Secondly is how to navigate the experience development process and to not just create cooking cutter copies of science centers from Europe, North America or from even with Turkey. While certainly they will draw on that experience, the Turkish culture, history, geography, environment, economy deserve their own unique experiences. Not to mention this is the way to actually develop and create a uniquely Turkish exhibit community as well.
But from the symposium it is clear they understand the challenges. Already an emerging Turkish exhibition production business group is forming as evidenced by the number of them whom came and spoke to us at the symposium. And certainly the representatives of TUBITAK are aware and are working hard on guiding  the process towards a successful outcome.
In conclusion this first gathering was truly both an encouraging and positive sign for the Turkish Science Center conference. Our hosts in Bursa did an excellent job and were gracious and warm. Certainly therTurkish science center movement is on a positive tack. Here at ALCHEMY studio we are excited to be part of it and look forward to seeing this movement flower.
Here are some links to the news converge:
http://www.olay.com.tr/haber/bursa-bolge/uluslararasi-turkiye-bilim-merkezleri-sempozyumu-b-106815.html
http://bursakultur.com/gp/2012/uluslararasi-katilimli-turkiye-bilim-merkezi-sempozyumu-yogun-ilgi-gordu/
http://www.zaman.com.tr/haber.do?haberno=1291495&title=bilim-merkezleri-sempozyumu-bursada-yapilacak