Today one of the very first sessions at the 2012 AAM conference focused on the emerging use of augmented reality in the museum setting. This was both in inside facilities as well as outside locations including parks, historical sites and zoos.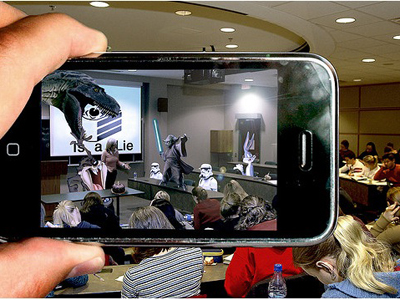 Several observations from the presentations today:
-          When you think of AR don't be focused only on 3D models that appear on a screen (mobile, tablet or monitor) which can be rotated in three dimensions. Rather think models, video, data and other information provided from either gps and or visual sensing location determination.
It's the info cloud that is accessible at a certain place.
-          Today programming across multiple platform iOS and Android is problematic. The holy grail is to make it BYOD (bring your own device) so this is important. It poses the question of equal access of content to all. What if you don't have a device? What it the content doesn't work on your device?
-          It appears the major "nut to crack" is how to have AR not remove you from the real object or process. How does it really augment it? No one wants people just staring at more screens. A great deal of work remains to solve this issue. Not mentioned today was did people learn more or improve their experience emotionally or in other qualitative ways.
-          Something to consider is where and how the visitor acquires the app to use the AR if they are using their own device. You can't depend on them downloading it before they arrive. It appears that having wifi is critical – not just or only cellular service.
-          Finally already the move is to match AR with game experiences.
Turkletom via Flickr